SG Homecare offers an extensive variety of the highest quality Disposable Medical Supplies for our patients throughout California. Our diverse selection of Disposable Medical Supplies includes but is not limited to, Urological Supplies, including catheter systems and drainage bags; Incontinence Products such as diapers and incontinence accessories; Diabetic Supplies, including glucometers, insulin pens and diabetic testing supplies; Ostomy Care Products such as barrier systems, drainable and closed ostomy systems, and pediatric ostomy systems; Wound Care including bandages, cleansers, gloves, adhesives and more; and Enteral Nutrition including formulas and feeding pumps and supplies; and much more…
Our patients are our top priority… we are "People Helping People", meaning we provide the best possible customer service to our patients from the moment their doctor prescribes their Disposable Medical Supply, through selecting the best product for their individual needs, and with every delivery thereafter.
Our Patient Service Technicians pride themselves in every order we process. We provide the most trustworthy brands for our patients so that we can ensure that their Disposable Medical Supplies are the best and most reliable.
Our streamlined, user-friendly re-order process enables patients to receive their reoccurring orders efficiently and without delay. Our customer-focused Patient Service Technicians combined with our innovative technology allow us to meet quick turn-around times and provide superior care.

Urological
Catheter Systems
Drainage Bags
Insertion Trays
Irrigation Supplies
Leg Bags

Incontinence
Diapers & Pullups
Belted Undergarments
Liners
Underpads
Incontinence Accessories

Diabetic
Glucometers
Diabetic Testing Supplies
Lancets
Lancing Devices
Insulin Pumps
Insulin Delivery Systems
Control Solutions
Log Books
Continuous Glucose Monitoring
---

Ostomy
1 and 2pc pouch/barrier systems
Drainable and closed systems
Pediatric systems
Barrier rings and strips
Paste, adhesives, removers
Odor eliminators

Wound Care
Bandages and dressings
Cleansers
Sponges
Fillers
Gauze
Gloves
Tapes
Adhesives
Alcohol Swabs
Burn Care

Enteral Nutrition
Enteral Formula
Supplemental Formula
Infant Formula
Irrigation Syringes
IV Pumps
Feeding Pumps
Feeding Supplies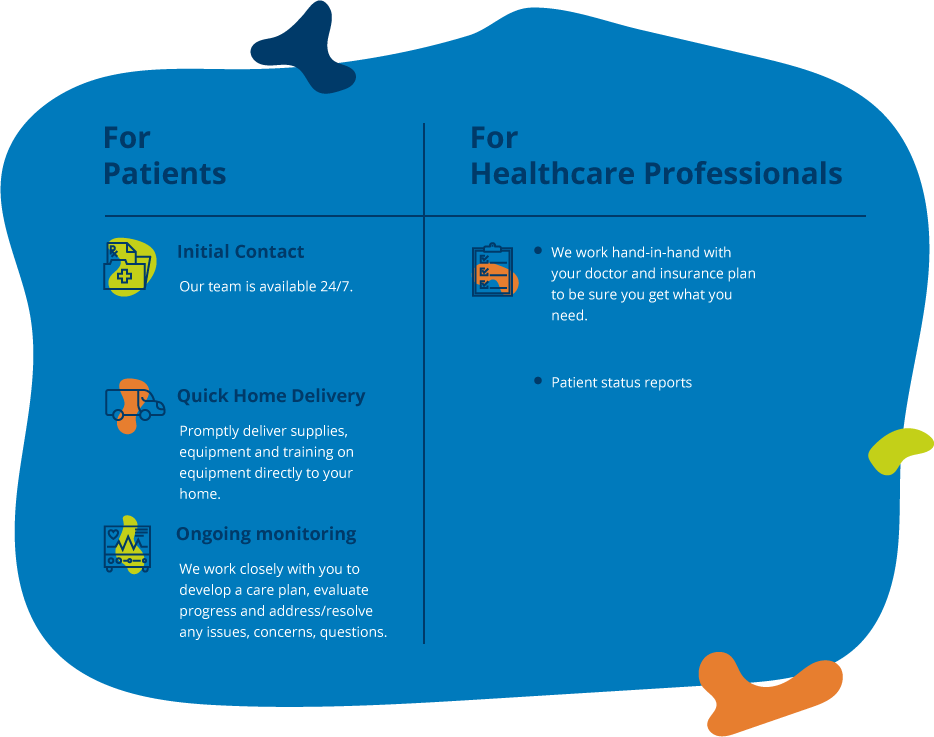 Providing quality care is not just
a 9-5 job, it's a 24/7 commitment.
You can count on us to answer the phones 24/7!
Our employees are always ready to help the patients anytime.
You will never get an answering service.