SG Homecare offers a wide variety of the highest quality Durable Medical Equipment and Supplies for our patients across California. Our large selection of Durable Medical Equipment and Supplies includes but are not limited to Patient Room Home Equipment, including beds, lifts and bathroom safety products; Mobility Assistance, including custom, powered and manual wheelchairs; Respiratory Therapies and Oxygen; Home Therapy Equipment including negative pressure wound therapy and lymphedema pumps; Orthotics and Prosthetics; comfort aid products and much more…
The team at SG Homecare prides ourselves on being "people helping people". We work hand-in-hand with patients' doctors and insurance plans to determine all the requirements that help us identify the right products for the patient's individual needs. We strive to provide safe and easy-to-use products for our patients. Our skilled Patient Service Technicians work with our patients to ensure that they have a thorough understanding of their equipment and to answer whatever questions or concerns they might have 24/7.
We are committed to providing the highest quality of Durable Medical Equipment products, and are continually expanding the selection of products that we have available for our patients.

Home Equipment
Bathroom Safety
Hospital Beds
Homecare Beds
Bed Accessories
Patient Lifts
Pressure Reducing Mattresses and Overlays
Trapeze Bars
Non-Powered Stand Assist
Foam Positioning
I.V. Equipment
Blood Pressure Monitors
Blood Glucose Monitors
Homecare Room Accessories

Mobility Assistance
Canes
Crutches
Walkers
Rollators
Wheelchairs– Custom, Power and Manual
Wheelchair Accessories
Mobility Accessories

Respiratory Therapy
Apnea Monitors
Cough Assist
PAP Therapy– CPAP BiPap, 5 day Auto Titration
Respiratory Accessories
Nebulizers
Oximeters
Suction Unit
Tracheostomy Equipment and Supplies
Ventilators
Concentrators
Home fill units
Liquid Oxygen
Portable Systems
Oxygen Accessories
---

Home Therapy Equipment
Lymphedema Pumps
Negative Pressure Wound Therapy
Continuous Passive Motion (CPM)
Tens Unit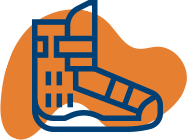 Orthotics & Prosthetic
Braces
Cervical Traction Sets
Slings

Miscellaneous
Breast Pumps
Bili Blankets
Diabetic Shoes
Immobilization Equipment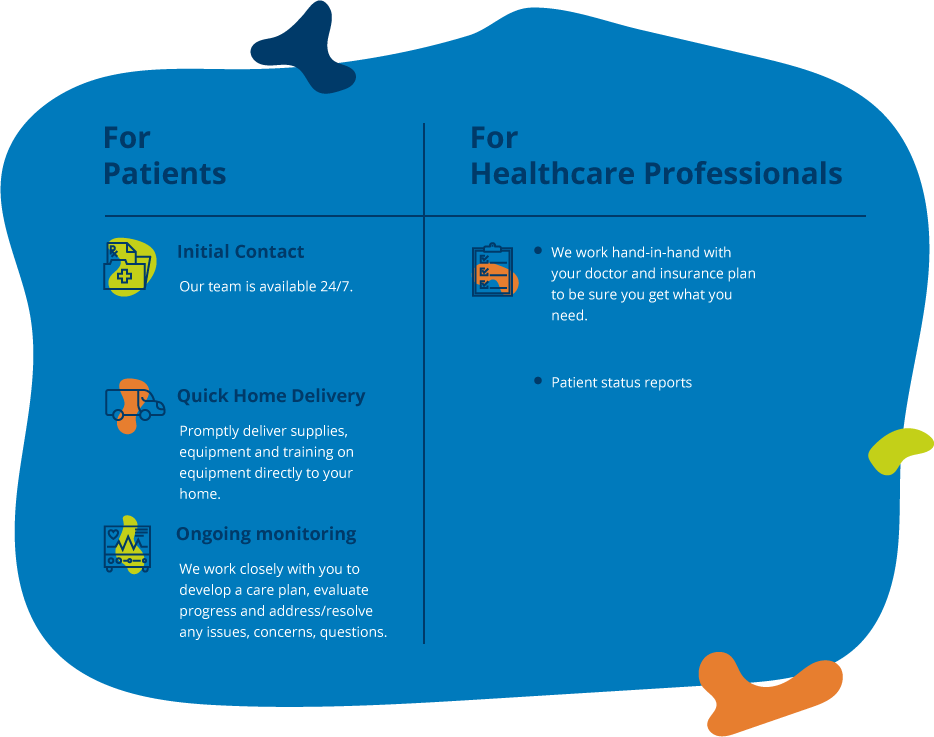 Providing quality care is not just
a 9-5 job, it's a 24/7 commitment.
You can count on us to answer the phones 24/7!
Our employees are always ready to help the patients anytime.
You will never get an answering service.